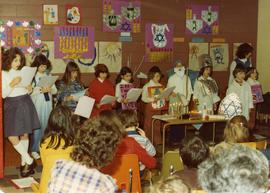 CA JMABC A.2011.035-003-23-L.17642
Item
1976
Photograph depicts children in costume in a school room.
Original description reads, "Chanukah Party, December 1976 Our Hebrew school pupils under the very capable direction of teachers Dvori Balshine and Ruth Steinberg put on an excellent page[a]nt for a large audience of about 80 people. A very good time was had by all."