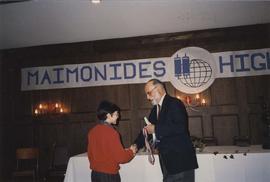 Daniel Leventhal receives award from Dr. M. Steinberg
Photograph depicts (l-r) Daniel Leventhal and Dr. M. Steinberg shaking hands, while Dr. Steinberg hands Leventhal a medal.
Two copies. Colour copy scanned. Written on the recto of black & white copy: "Prize-winning student Daniel Leventhal receives award as over-all winner from Dr. M. Steinberg, member of Education committee of Maimonides High School." Written on verso of colour [...] [rest cut off].