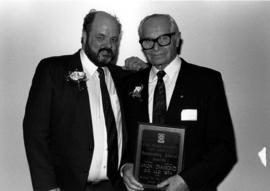 Jack Diamond and Norm Wickstrom
Photograph depicts (l-r) Norm Wickstrom and Jack Diamond holding a plaque.
Written on a separate piece of paper: "Longtime Simon Fraser University supporter Jack Diamond was one of four recipients of the university's 1988 outstanding alumni awards. The recipients were honored at a reception at SFU's new Harbour Centre campus."