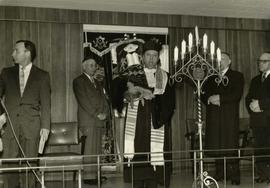 CA JMABC A.1999.001-4-4-2-15
Unidad documental simple
[January 10, 1960]

Parte deB'nai B'rith fonds
Photograph attached to scrapbook. It depicts the dedication and presentation service for a new sefer Torah being presented to the Jewish Home for the Aged. Preceding the service, the Torah was carried under a canopy in a procession from 49th Avenue and Fremlin Street to the Home at 54th Avenue and Oak Street.