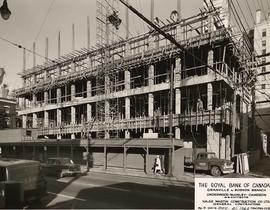 No. 4, Facing N.W. - Royal Bank of Canada, Granville & Robson Branch
CA JMABC A.1985.001-1-58-LF.01648
Item
December 21, 1962
Photograph depicts the Royal Bank of Canada branch at Granville and Robson.
Three storey concrete building under construction with wood framing for addition of more stories; concrete funnel tower and building in front of building; two ladies walking past boarding around building in centre foreground of image.
Title box in lower right corner reads: "THE ROYAL BANK OF CANADA VANCOUVER B.C.", "GRANVILLE & ROBSON BRANCH", "UNDERWOOD - McKINLEY - CAMERON, ARCHITECTS", "HALSE MARTIN CONSTRUCTION CO. LTD., GENERAL CONTRACTORS", "No. 4", "DATE DEC. 21, 1962", "FACING N.W.".