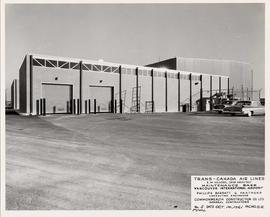 Trans-Canada Air Lines Maintenance Base upon completion, Vancouver International Airport , no. 5
CA JMABC A.1985.001-1-12-LF.00249
Item
October 14, 1961
Photograph depicts progress on the Trans-Canada Air Lines project.
Low angle shot of back side of airplane hangar; one story brick building addition; two garage type doors flanked by mid height metal posts; two vehicles parked in right side of image; taller part of hangar visible in right background of image.
Title box in lower right corner reads "TRANS-CANADA AIR LINES E.W. SELLORS, CHIEF ARCHITECT", "MAINTENANCE BASE VANCOUVER INTERNATIONAL AIRPORT", "PHILLIPS BARRATT & PARTNERS CONSULTING ENGINEERS", "COMMONWEALTH CONSTRUCTION CO. LTD. GENERAL CONTRACTORS", "No.5", "DATE OCT. 14, 1961", "FACING S.E. FINAL"