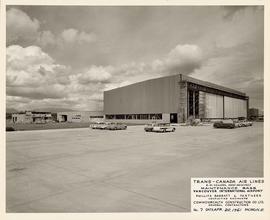 Trans-Canada Air Lines Maintenance Base, course of construction, Vancouver International Airport, no. 7
CA JMABC A.1985.001-1-12-LF.00271
Stuk
April 20, 1961
Photograph depicts progress on the Trans-Canada Air Lines project.
Exterior angled side shot of airplane hangar; metal scaffolding on right side corner of building; vehicles parked in lot at side and in front of building; smaller buildings to left of hangar; sky is very cloudy.
Title box in lower right corner reads "TRANS-CANADA AIR LINES E.W. SELLORS, CHIEF ARCHITECT", "MAINTENANCE BASE VANCOUVER INTERNATIONAL AIRPORT", "PHILLIPS BARRATT & PARTNERS CONSULTING ENGINEERS", "COMMONWEALTH CONSTRUCTION CO. LTD. GENERAL CONTRACTORS", "No.7, "DATE APR. 20, 1961", "FACING N.E."