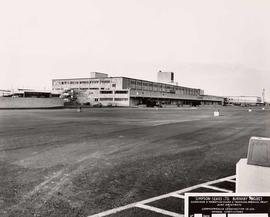 Simpsons-Sears Ltd. Burnaby Project
CA JMABC A.1985.001-1-27-LF.00492
Unidad documental simple
August 9, 1954
Photograph depicts the Simpsons-Sears Ltd. store in Burnaby.
Empty parking lot in foreground of image; four story concrete building with varying levels in centre of image; delivery truck and fleet of cars parked in front of building.
This photograph is associated with Gardiner & Thornton-Sharp, architects; Thompson, Berwick, Pratt, architects; and Commonwealth Construction Co. Ltd., general contractors.