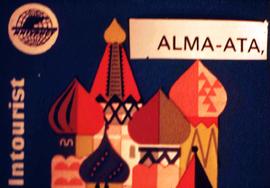 Intourist travel brochure for Alma-Ata, the former capital of the soviet and post-soviet Kazakhstan
CA JMABC A.1995.003-001-32-L.18692
Item
[1969]
Colour Kodachrome 35mm slide depicts an Intourist travel brochure for Alma-Ata, the former capital of the soviet and post-soviet Kazakhstan. Now known as Almaty, at this time known as Alma-Ata.
Note for slide reads: "Alma-Ata capital of Republic of Kazakhstan. Highly industrialized city with population of 750,000. Just north of Sinkiang [sic] [Xinjiang] province where China explodes its atomic bombs. Russia's space program and atomic bombs also originate in this republic. Separated from China by Tien Shan mountains."
Note: Intourist is the former official state travel agency of the Soviet Union. Alma-Ata is now called Almaty and has not been the capital of Kazakhstan since 1997.